The Origins and Design of Christmas Cards Over the Years
Posted on 07 Dec, 2022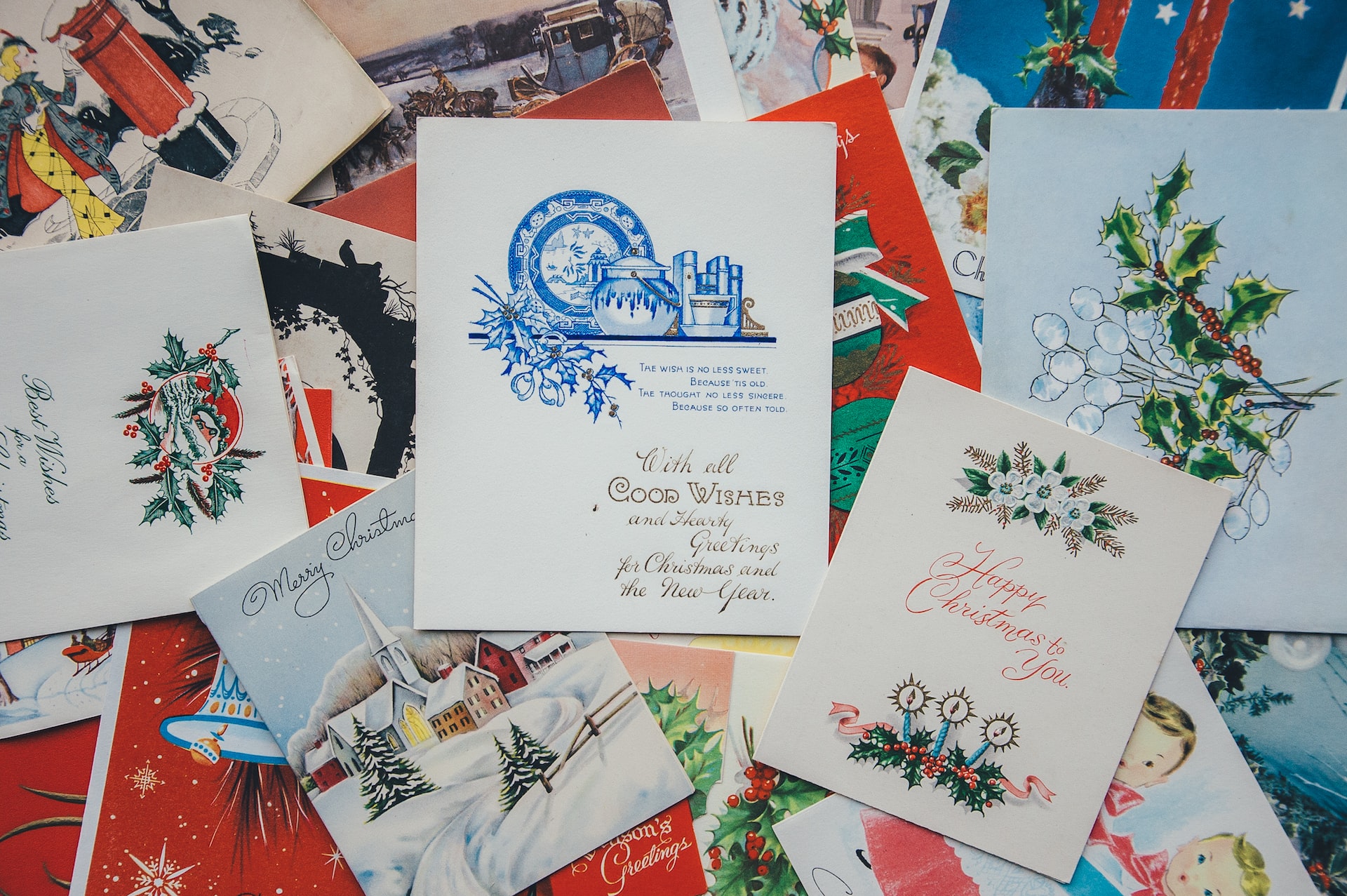 Whilst emails and social media have caused a massive drop in the amount of hand-written and posted correspondence over the last twenty years, one form of mail contact remains hugely popular – the humble Christmas card. According to industry lobby group, the Greetings Card Association (GCA), residents of the UK send around 1 billion Christmas cards and other festive greetings to one another every single year.

Today, of course, there are thousands of designs available, from traditional images of Victorian-style Christmases straight out of a Charles Dickens novel, to cartoons, humorous images, festive photography, and more. There's even a whole range of branded Christmas cards, allowing you to wish someone a Merry Christmas through their favourite characters, be it a Disney princess, a Marvel superhero, or Del Boy from Only Fools and Horses.

But how did we get here? What are the origins of the Christmas card, and how has their design evolved over the years. In this article, we hope to answer those questions for you, beginning with…
The First Recorded Christmas Card
The earliest example of a Christmas card that we know of dates back to 1611, from Michael Maier to King James I of England (James VI of Scotland) and his son Henry Frederick, Prince of Wales. The design on the front was not the typical festive scene. Rather, the message from Maier was printed onto the card to form the shape of a rose. Whilst more than 400 years old, this technique of forming definable shapes out of words feels very modern and can be seen in a lot of popular digital prints today.
The Modern Christmas Card
Sir Henry Cole – a British inventor and civil servant – is generally credited with the invention of the Christmas card in 1843. The image on the front of his first card feels typical of a Victorian era Christmas scene, showing a family raising a seasonal toast to the recipient of the card, with images of Christian charity (largely donating food and clothes to the poor) on either side. In its first year of production, 2050 copies of this card were sold, at a shilling apiece, totalling £170 and 10 shillings (or about £10,000 in modern money).
Flowers and Fairies
Early Christmas card designs rarely had anything to do with Christmas. There were no religious connotations and no wintry scenes. Indeed, the images used in their design were more likely to be looking forward to spring than celebrating wintertime, bearing floral and fantasy images.
Wonderful and Weird
We may think of absurd Christmas cards as a modern invention, but there were a wide variety of off-the-wall Christmas card prints available in Victorian England. From rats riding lobsters and frogs dancing with stag beetles, to monstrous human / parsnip hybrids wishing you a merry Christmas (no, really), there was no shortage of bizarre design elements in the late 19th century.
Check out some great examples of wonderful and weird Christmas cards at https://www.boredpanda.com/creepy-victorian-vintage-christmas-cards/
Wartime Christmas Cards
By the time of World War I, Victorian Christmases were already something to feel nostalgic about. This, combined with needing a quick, cheap, and easy way to contact family members on the front lines, saw a massive surge in sentimental and religious Christmas cards. The weird and whimsical made way for more sombre reflection, as one might expect given they were being sent to people in the middle of a warzone. The same thing occurred in the Second World War, both on the battlefield and at home. With many city children evacuated to the countryside, Dickensian looking Christmas cards depicting Christmas in the city were a popular way to remind those children of home.
Today's Christmas Cards
As we mentioned at the start, there's a huge choice of Christmas cards available today, but the design elements remain the same. We still picture Victorian England as the epitome of Christmas nostalgia. We can still find weird and wacky card designs to give our best mates a laugh. We still exchange festive greetings with friends and family across the world using familiar themes and images that resonate with all of us.

Everyone at Careers in Design would like to wish you a very Merry Christmas. If you're looking to kickstart your design career as you head into 2023, remember to register with us today to see all the latest vacancies.
Back to blog
Posted in: Designers